Aluminum tool case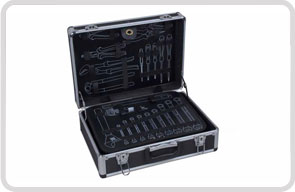 Name: Aluminum tool case
Model: YJ-002
Size: 440*325*160 MM
Weight:
Availability:
Quick Details
Quick details
1, Item No. YJ-002
2, Dimension: 440*325*160 MM
3, Customized cases are welcomed
Packing & Delivery
Packing: bubble bag, carton or custom
Delivery: 30 days
Specifications
1.Two metal-holder in two sides.
2.Two tool panels in the lid
3.Removable compartments in the bottom
For this style of aluminum tool case, it is designed to put different sets of tools. There are two tool panels in the lid, one is removable , another is glued in the lid. In the panel, there are two elastic bands which are used to hold the tools. So, the two tool panel could hold too many tools for craftsman.
For the metal-holder in two sides, they could support the lid better. When we put the set tools in the lid, they are too heavy. It will destroy the shape of lid if we do not use metal-holders.
Besides, the metal-holder could keep the angle when we open the lid. For usual case, the lid are easy to be closed when we touch them. It is dangerous for us when we pick the tools in the case. The metal-holder could solve this question.
For compartments in the bottom, we could take off dividers in the bottom. Then we could design the compartments which we need to fit our others tools all by ourselves. It is easy to do. Then we could not worry about the different tools in the bottom, because we could change the size of compartments to fit them.
To promise stronger , we use metal-bottom handle for this case.
If you need this style of case, please feel free to contact us. We will design the special aluminum tool cases fit your own requirements.