Aluminum cases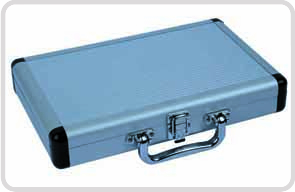 Name: Aluminum cases
Model: YT-004
Size: 305*200*52 MM
Weight:
Availability:
Quick Details
Quick details
1, Item No. YT-004
2, Dimension: 305*200*52 MM
3, Customized cases are welcomed
Packing & Delivery
Packing: bubble bag, carton or custom
Delivery: 30 days
Specifications
For this style of aluminum case, the profile is all aluminum. We could change the material of top and bottom panel and the size of length and width , but we could not change the height easily.
For the usual height as below:
1, 32 MM
2, 40 MM
3, 52 MM
4, 72 MM
5, 100 MM.
We usually make brief case with this style of aluminum frame. Or some small aluminum cases which are used to put light documents or small equipment.

HQC-case: Higher quality and more competitive prices cases what we could supply.
HQC-case have many years` experience to produce and manage various aluminum cases, including aluminum tool caseS,flight cases, first aid boxes, cosmetic cases, and custom aluminum cases, etc.
Besides, we have developed Pelican cases and Leather cases with our partner, it enlarges the styles which the customers could choose.